In the past few days, talking on the phone with a friend and colleague from the editorial staff of the blog allbetsites.org, I discovered the existence of a "new entry" in the international betting and gambling scene: Explosino Casino & Sports.
We have therefore agreed on a series of articles in collaboration, in order to investigate and test this brand new reality, of great interest to our readers.
We have planned to divide the tasks: allbetsites.org deals with the purely technical aspects and relates the merits and defects of this site as it has been doing for years with dozens of other players in the sector (see the many articles on the subject in allbetsites.org)…
We at hot-gambling, on the other hand, will focus on the practical aspect of the operation of this site in particular.
As this site has only been in operation for a few months we expressly request your cooperation:
send us your feedback, direct experiences and opinions….
…will certainly be useful to the whole community.
In order to achieve the best understanding and simplicity, this article/tutorial is organized as a "step by step" guide completed by various screenshots taken during our tests. If something is not clear and/or simple please let us know, we will update the tutorial immediately.
1) how to access Explosino Casino & Sports getting bonuses for free tests?
I won't go into the description of the many bonuses offered because they change all the time especially in this particular period, check them out for yourself, a we are currently very interesting.
The management of Explosino Casino & Sports has kindly made two special bonuses available to all our readers who would like to try their site:.
the first one for Explosino Casino
Explosino. Bonus offer: 20 no deposit FS on Lucha Maniacs slot + 100% FDB up to 500 EUR + up to 100 FS.

( to activate the bonus use the promo code -> 20EXPLO )
[~Warning: each new member/user can only receive the Casino bonus or only the Sport~ bonus]
the second for sports betting: Explosino Sport.
Exclusive bonus offer: 10 EUR Risk-free bet + 100% FDB up to 50 EUR
To receive this bonus our users must request it in live chat
[~Warning: each new member/user can only receive the Casino bonus or only the Sport~ bonus]
The first time you enter the site before registering you must make a choice to determine what type of bonus you prefer:
1) only receive the Casino bonus; 
2) or receive only the Sport bonus.
Please follow the links above…
At first glance, the graphics of the site are extremely simple and clean, perhaps a bit spartan, but all in all intuitive and very simple to navigate through the necessary/useful functions.
For our first test we chose the function "Sport" ( in red – top left);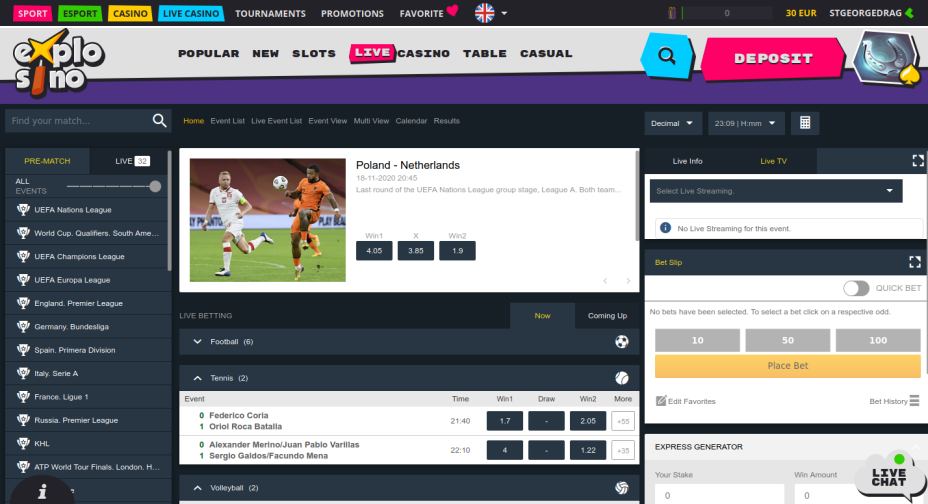 we have registered… and we have run KYC (it's easier – and I recommend it – to do KYC from your mobile phone using the camera if you don't have a cam on your PC).
The KYC is requested in advance at the first deposit so the restrictions regarding forbidden countries cannot be bypassed with a simple VPN (always useful at least for your privacy).
We advise you to provide only real and truthful data in order to avoid problems afterwards when collecting the winnings… however if you limit yourself to a purely playful use (aiming very limited amounts and giving up collecting the profits) there are no problems, they can arise only in case of liquidation… Example: I paid 30€ into BTC and I'll keep on gambling without withdrawing anything… until the funds run out. For this eventuality, please let the live-chat advise you for the best, even in case you return to the forbidden countries (at the moment Italy is free from any kind of restrictions).
Have chosen sports betting, we have requested through the live-chat the relative bonus.
Exclusive bonus offer: 10 EUR Risk-free bet + 100% FDB up to 50 EUR.
immediately afterwards we started to bet… as you can see just choose your favourite sport and the matches on the calendar…. extreme simplicity !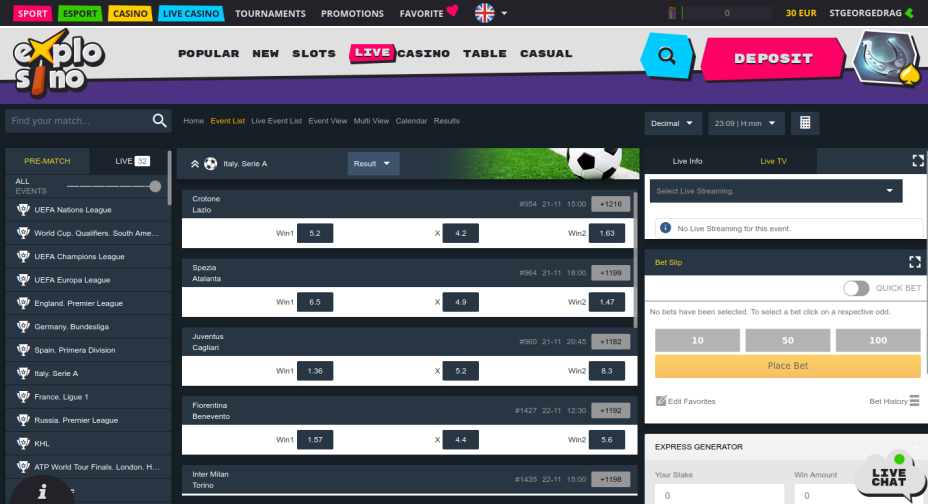 For those who prefer the Casino you will be spoilt for choice…
(to activate bonus there is a promo code – 20EXPLO)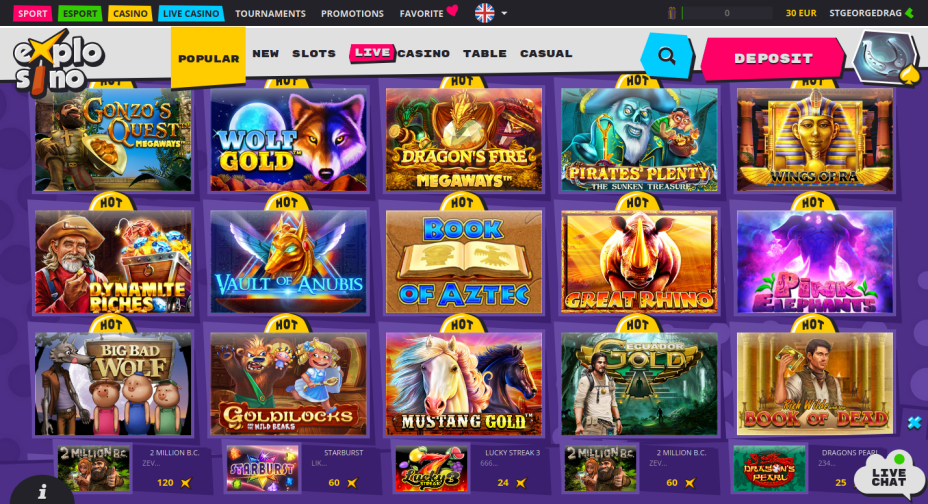 The section I liked the most is this one of the classic live games (live with real Crupiers)…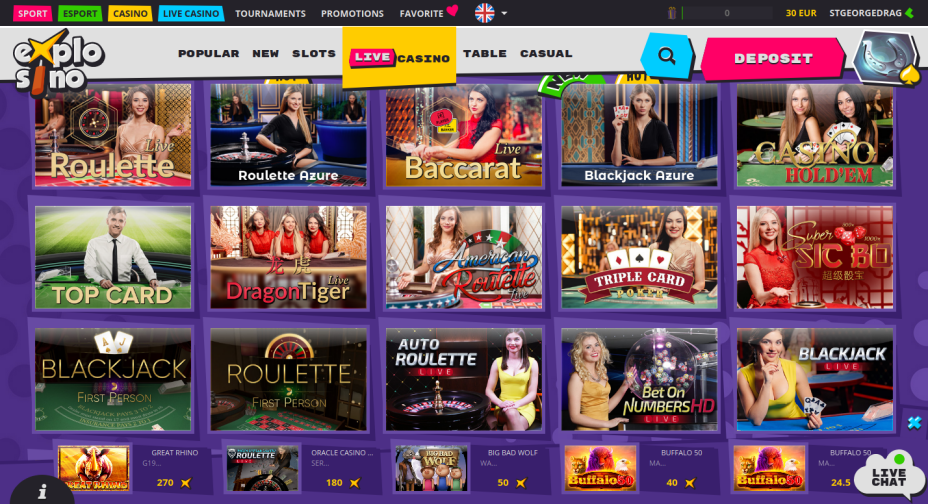 For export-lovers, this section will surely be appreciated….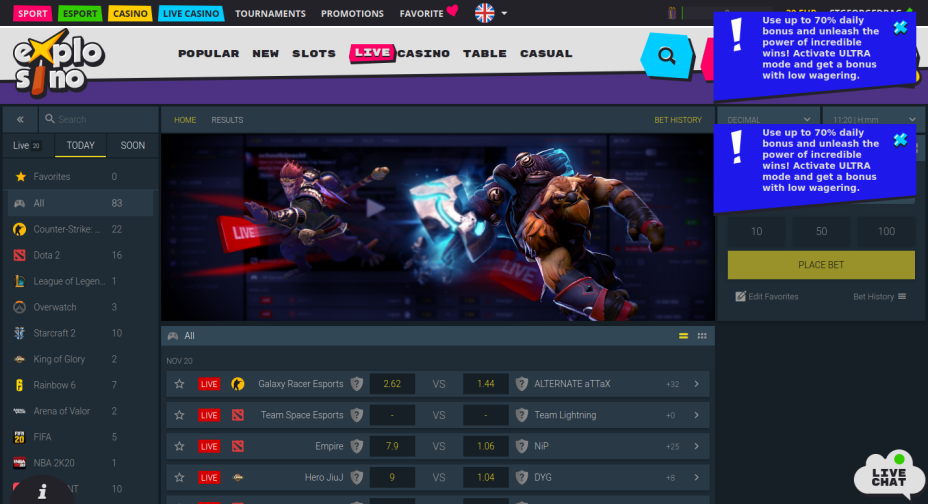 We did not find any major anomalies or problems during our test run, except for one "sore note". :
No multilingual support for the Italian language.
We have complained that the Italian language is not supported with the customer service staff and they courteously told us that they are working to add this language to their website functionality, apologizing for the delay due to the fact that they are online only from 2020…
so the adaptation works are "work in progress" and we hope that soon Italian users will be completely satisfied too. In the meantime, given the extreme simplicity of the procedures, I would also recommend an experience for those who do not chew English and/or Russian…
we welcome your comments !
These are the first opinions of allbetsites.org :
Daniele
Great news to finally see a brand new online casino and also NON-ADM, so I just took a peek at their website and it looks really attractive, interesting and competitive. Great graphics. They work with many different platforms, so there are many games.
I like the sports betting area. Very positive that there are many different ways x deposit.
I sign up now and try the free spins.
Mario
I just discovered thanks to you this online gambling site today and, fortunately for me, Italians are allowed to play here, and you can take advantage of the free no deposit bonus of twenty free spins at the lucha slot, which is worth ten cents per spin… however I managed to win 44 cents with this spin. Today I have a bit of luck and reached the amount of 4 euros… I kept playing the samd slot for a while and just before completing the rollover requirements, I lost my winnings. It's an amazing site for real, I had a lot of fun in this casino… I highly recommend it.
Francesco
Hi I just tested this new casino.
I made an account with a no deposit bonus code 20EXPLO everything worked fine, I got 20 free spins.
Matteo
As a first impression it looks like a very well made casino, I received the free no deposit bonus, it's certainly fun, I wish you good luck!